Room for Bio-chemical experiments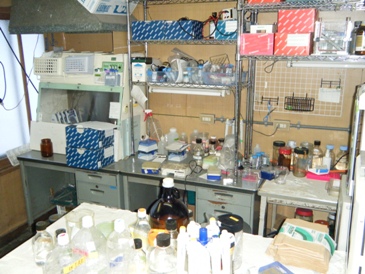 @Several kinds of experiment tools and instruments are prepared for bio-chemical experiments.
---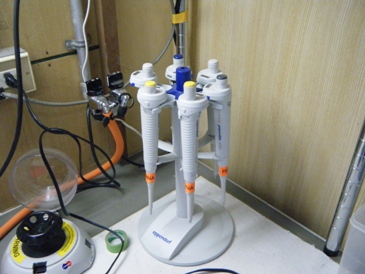 Micropipette
@
These are eppendorffs Reference pipettes which are synonymous with pipetting accuracy. Pipettes are separately used for DNA, RNA or Proteins without contaminations.
---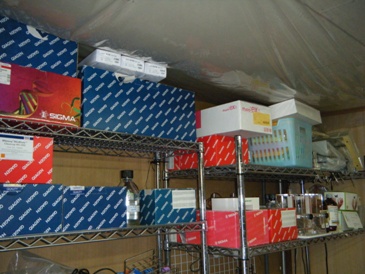 Various kits
@
Histochemical analysis, in situ hybridization and other procedures have been performed for analyzing mechanism of fish development. Various kits, such as artificial RNA synthesis, purification of plasmid DNA etc., are prepared.
---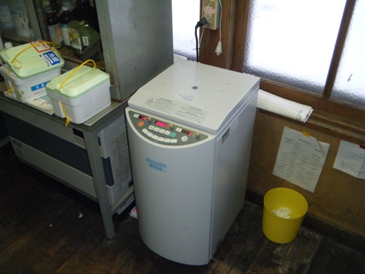 Refrigerated Centrifuge
@Refrigerated centrifuge (Kubota Model3700) and its vertical and swing rotors are prepared.
---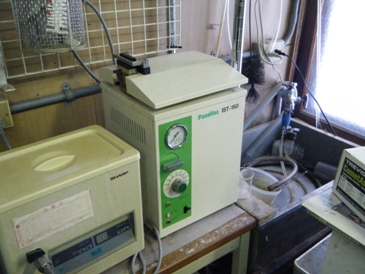 Autoclave
@Autoclaves are prepared for sterilizing of equipment and culture mediums by means of steam under pressure.
---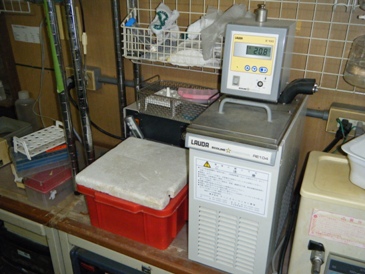 Water-baths
@
Water-baths are used for incubation in enzymatic reaction, cultivation of coliform bacteria and so on.
---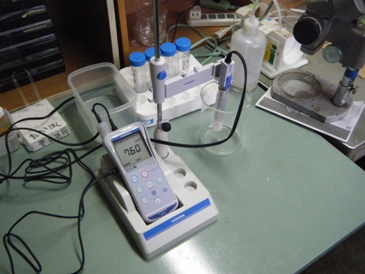 pH-meter
@pH meter is used for measuring and controlling the acidity or alkalinity of a liquid.
---
---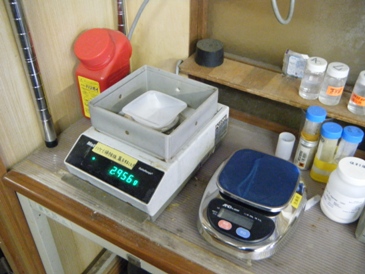 Electronic balance
@
Several electronic balances are prepared in weighting. Waterproofing balance is also used for weighting of live fish body, except for weighting of reagent.
---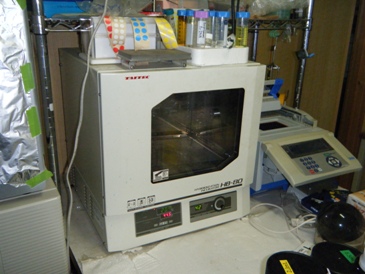 Hybridizer
@
This equipment is used for western, northern and in situ hybridization. Inside temperature is controlled under every 0.1 Celsius to check appropriate temperature for hybridization.
---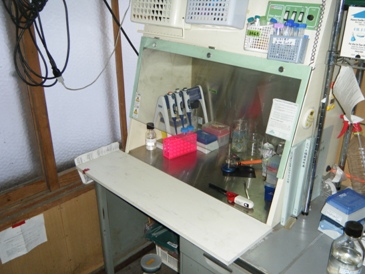 Clean bench
@Gene cloning and procedures of using coliform bacteria are performed in the clean bench for keeping a sterile environment.
---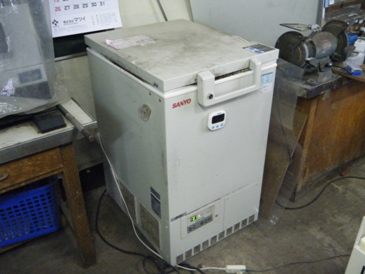 Deep Freezers
@Three -30‹C and two -80‹C deep freezers are available to keep samples and reagents.
---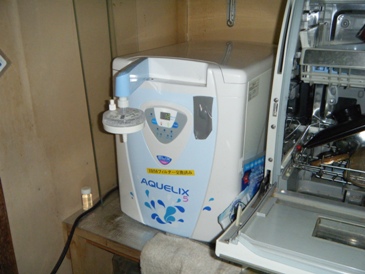 Water demineralizer
@Aquelix water demineralizer (Merck Millipore) is installed.
---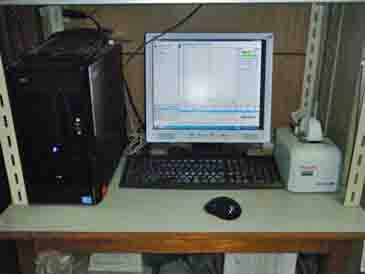 Spectrophotometer
@The NanoDrop 2000c (Thermo Scientific) is available. This spectrophotometer is the only micro-volume spectrophotometer that integrates a patented sample retention technology for samples as small as 0.5 ƒΚL and a cuvette capability. The data are easily printed out through network printer.
---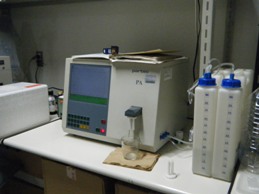 Flowcytometer
@Flowcytometer (Partec) is available to analyze polyploidy of natural population, hybrid status of artificially induced interspecific hybrid, and chimeric or mosaic status of artificially manipulated organisms.
---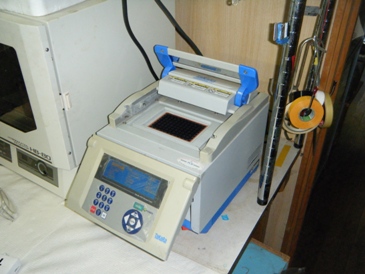 Thermal cycler
@Thermal cycler (TaKaRa) is available for various genetic analysis and gene cloning.
---
Electrophoretic Apparatus
@Several electrophoretic apparatus are available for protein analysis in PAGE and gene analysis in agarose-gel, such as amplified PCR products, digested products by restriction enzymes, purified products from coliform bacteria and so on.
---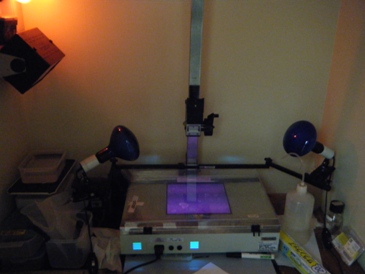 Dark Room
@Transilluminator is installed to visualize DNA products, such as simple extractions of genomic one, amplified PCR products, digested products by restriction enzymes, purified products from coliform bacteria and so on.
---
Room for Embryo Manipulation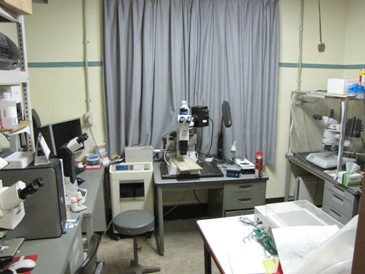 @Embryo manipulations, such as chromosome set manipulation, injection of artificial reagents, transplantation of cells or graft, are performed in this room. Apparatus for making manipulation needle, such as Micro-forge, micro-grinder, puller and so on, French-Press for chromosome-set-manipulation, fluorescent microscopes and incubators are available.
---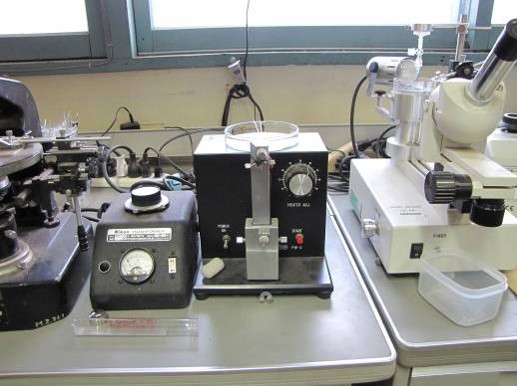 Puller
@Vertical pull type puller (Narishige) is available to make simple pulled glass needle. The method used by this puller is to pull the glass capillary vertically, using the gravitational force of its own weight.
---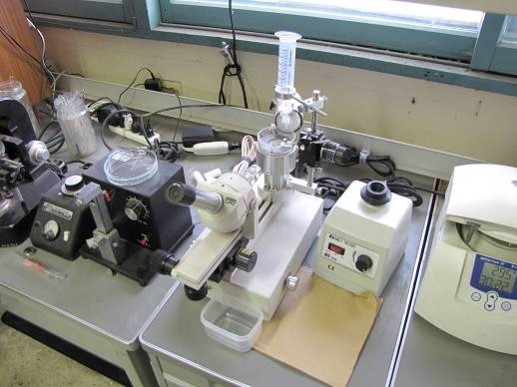 Microgrinder
@
The tip of simple-pulled glass needle is grinded by micro-grinder (Narishige) for cell transplantation. The microscope is mounted on this grinder, which uses a special motor to minimize irregular movements of the grinding plane: confirmation of contact between the pipette and the grinding plane enables grinding to be performed with greater precision.
---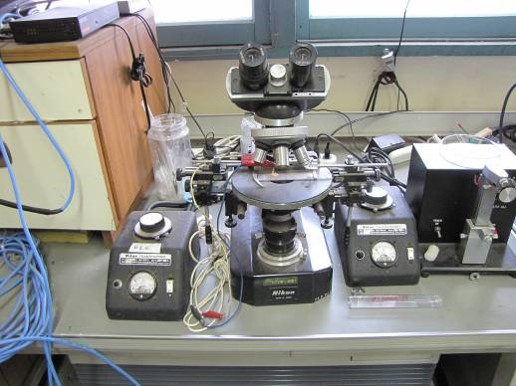 Microforge
@
This microforge is designed by Kishimoto (1984). Middle part of glass needle is melted by small platinum heater, making narrow constriction. This narrow constriction provides slow water flow of medium and slow movement of donor cells at the tip of needle.
---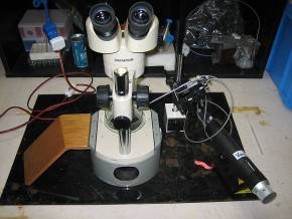 Microinjector and Joystick Micromanipulator
@
@Two types of microinjector (eppendorf celltram and vario) are available for injection of artificial reagent to egg cytoplasm and for transplantation of blastomeres between blastoderms. As the fish eggs are rather larger than mammalian eggs in size, joystick micromanipulator with coarse movement is available to manipulate the injection needle. As this manual micromanipulator (Narishige) features joystick control for excellent operability, the tip of glass needle is easily controlled to the appropriate position desired.
---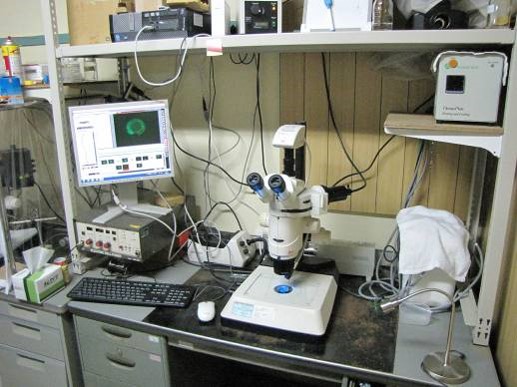 Fluorescent stereomicroscope
@Fluorescent stereomicroscope (Leica M165 MC imaging system) is required to transplant cells with fluorescein labeled cells into blastoderm of blastula, and to purchase the donor cells in the subsequent embryos. Attached distal camera is controlled by software installed in PC. This camera system enables to take time-lapse pictures and movies.
---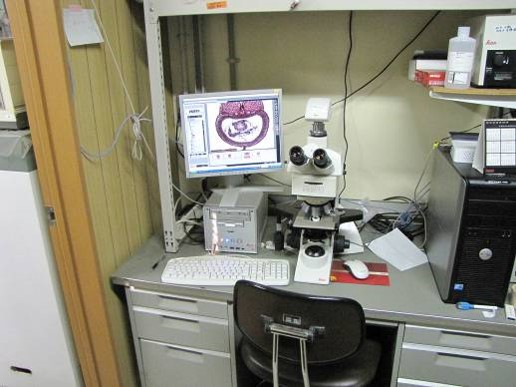 Fluorescent light-microscope
@
This light-microscope is used mainly histological observation of several types of sections, and sometimes observation of sperm motility. The highest magnification is x1000, and fluorescent imaging is available when light-guide for ultraviolet rays is installed into this microscope.
---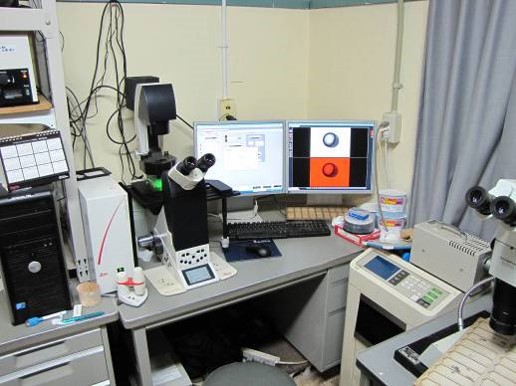 Fluorescent light-microscope - inverted
@
This inverted microscope is used for observation of high magnification in fluorescent imaging. The fluorescent cells are easily observed and purchased during development in a living embryo mounted in low temperature melting agar. Combined with easy to use software and high-resolution cameras, developmental change, route of cell migration and cell movements are easily recorded.
---
Embryo culture room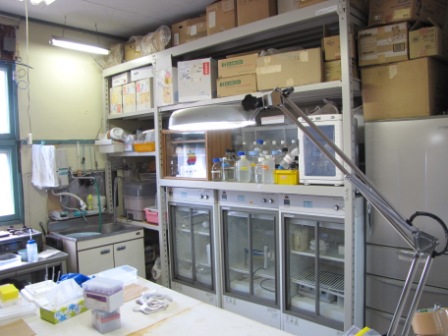 @We culture Manipulated embryo and cellsat this room. large ro small incubators are available and provide optimal condition.
---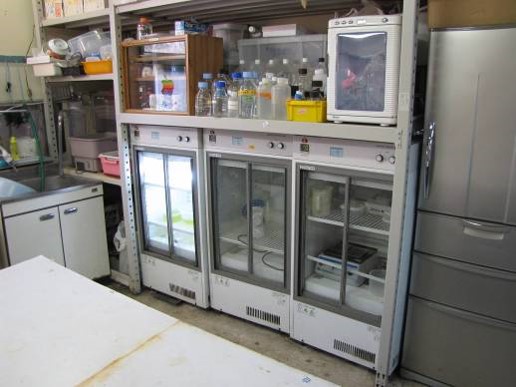 Incubators
@Large or small incubators are available to culture cells, embryos and fingerlings.
---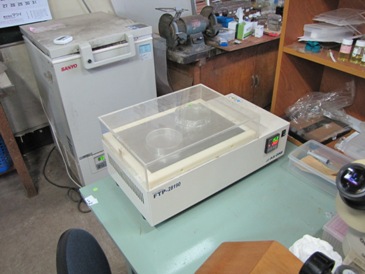 Thermo-plate
@
The determination of embryonic stage is required for manipulation of live-embryos. Room temperature roughly controls the embryonic development, but is difficult to control accurate temperature setting. This thermo-plate enables to keep temperatures in petri dishes on it. Speeds of embryonic development are controlled on it.
---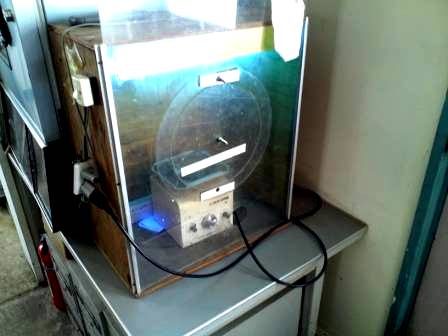 UV illuminator
@Inactivate shperm by rradiation of UV. This technique avail androgenesis, making poliploidy and so on.
---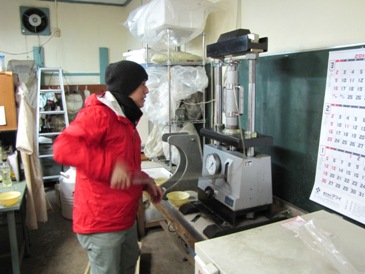 French-press apparatus
@
This apparatus (Otake) is used for chromosome set manipulation to prevent 2nd meiosis and 1st cleavage at appropriate time after fertilization, resulting to induce gynogenetic androgenetic diploid, triploid and tetraploid in fish embryo. Chromosome set manipulation is also induced by thermal treatment in water bath after fertilization.
---
A laboratory for histological experiment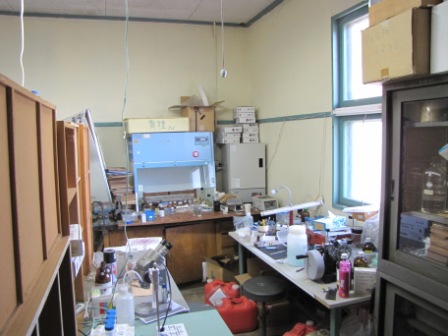 @This room equipped with microtome and staining solutions and available to make paraffin-and resin-embedded sectioning. Tissue section allow more detailed observations.
---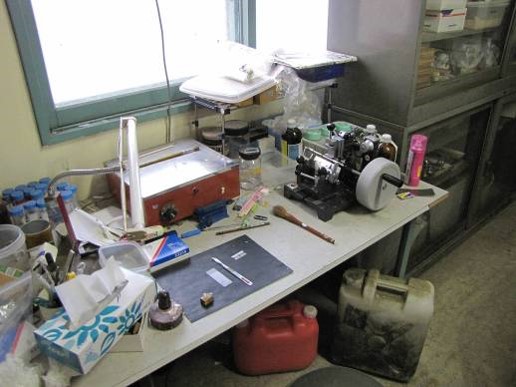 Microtomes and histological staining
@This microtome attached appropriate knife is available to make paraffin- and resin-embedded sectioning, depending on purpose. In case of paraffin-embedded sectioning, we can get easily serial section, while in resin-embedded we must collect separate sections. These sections are used for observation after simple Hematoxylin and Eosin staining, several special histo-chemical staining, such as avidin and biotin, and immune-histological staining.
---
New buildingiNow under constructionj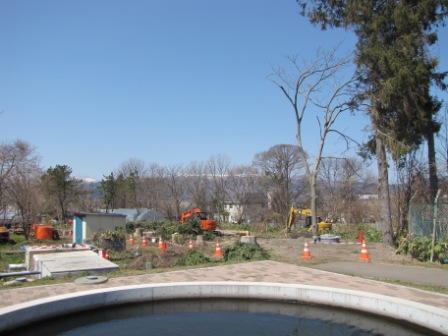 @
New building is under construction now. Institutions at 3 building will be collected into one building and the convenience of research will be improved.
---