Development of aquaculture techniques in salmonid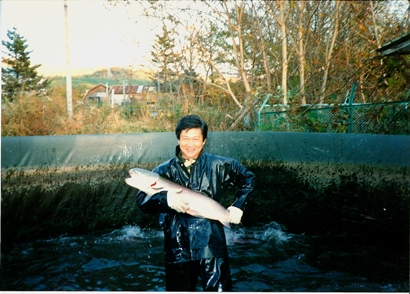 As the Nanae station are managed by small number of staffs, namely one educational, one technical and one part-time staffs, many original techniques and apparatus are adopted for labor saving and space saving.
Aquaculture techniques in salmonid species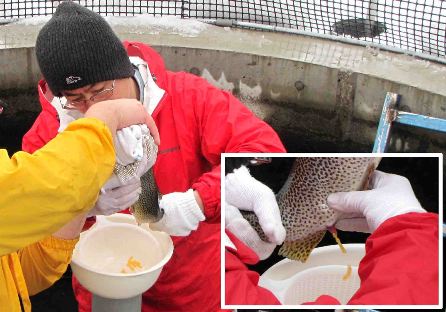 Artificial fertilization
Mature fish is gently picked up and covered over its eyes by towel without fighting during egg or sperm collection. In the case of large fish, such as Ito, fish are anesthetized with phenoxy-ethanol. Water is gently wiped off, because it activates sperm and eggs before fertilization. Firstly eggs are collected into sieve baskets and checked their quality. If contaminated by broken eggs, they are washed with Ringer's solution. Eggs moved to the plastic bowl are inseminated by milt from several mature males, and fertilized by adding fresh well water. After several washing with well water, fertilized eggs are disinfected with isodine solution at 50 ppm for 15 min and incubated. Eggs and milt will be collected repeatedly for several years, if the parent fish are carefully treated after maturation period.
---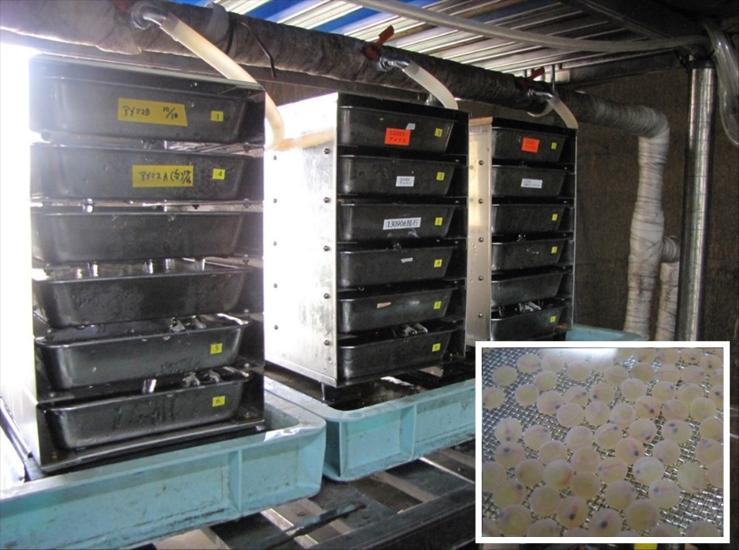 Incubation of fertilized eggs
Fertilized eggs are incubated in the each drawer of egg incubator. The incubator designed for salmonid fish by Mr. Kimura, has 6 drawers. It can accommodate the each drawer more than 2,000 eggs depended on their size. Fertilized eggs in the drawers were covered with flat stainless mesh not to flow out from drawers. Eggs in drawers were incubated in well water flowing in succession. To prevent a spread of the water mold on dead eggs, eggs were occasionally treated with methylene blue or bronopol (commercial name "PICES"). Dead white eggs were removed at one day after fertilization and at about 20 days when fertilized eggs develop to eyed stage. Hatched embryos are also incubated in the drawers, avoiding bright light, for a week or so.
---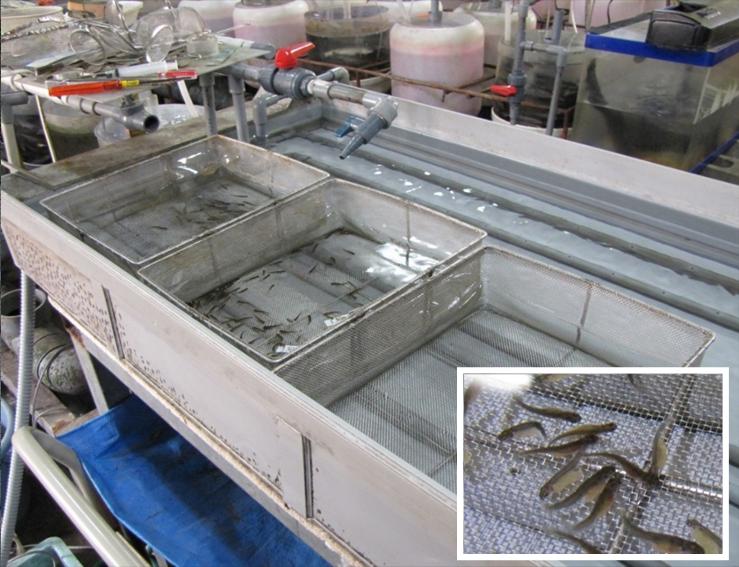 Feeding
 Hatched larvae are moved to mash cages settled in the flat aquarium. In this aquarium, well water is supplied from the bottom constantly. Fish are fed three times a day. A plenty amount of bait is fed to fish in mash cage, because all fish are able to eat it. In that manner, young fish shows similar growth rate, but a lot of bait loss. Therefore, frequent cleaning is required to keep healthy environment for fish.
---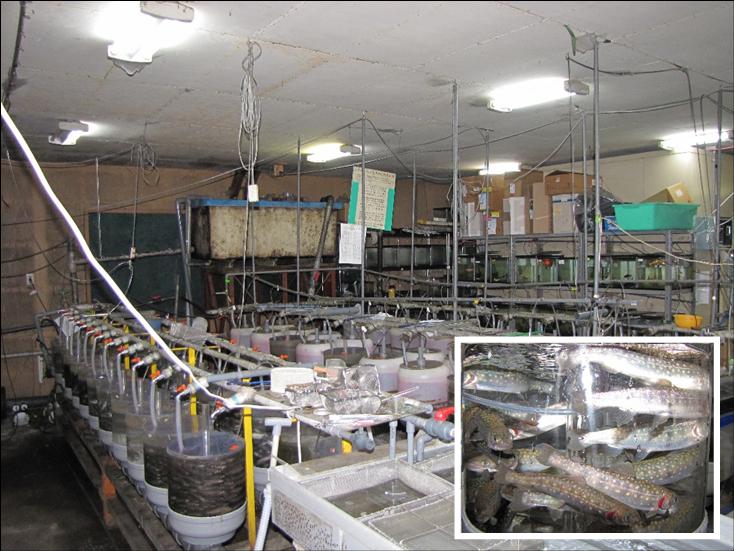 Indoor aquarium cultivation
 Four to 6 months after hatching, young fish are moved to the 18 litter cylindrical aquarium designed by former technical staff Mr. Sizuo Kimura (the Kimura-style aquarium). About 4 kg of masu salmon fish can be kept in this aquarium, when constant flow of well water is supplied. Fish grow to 10 cm in body size for 18 month-old.
---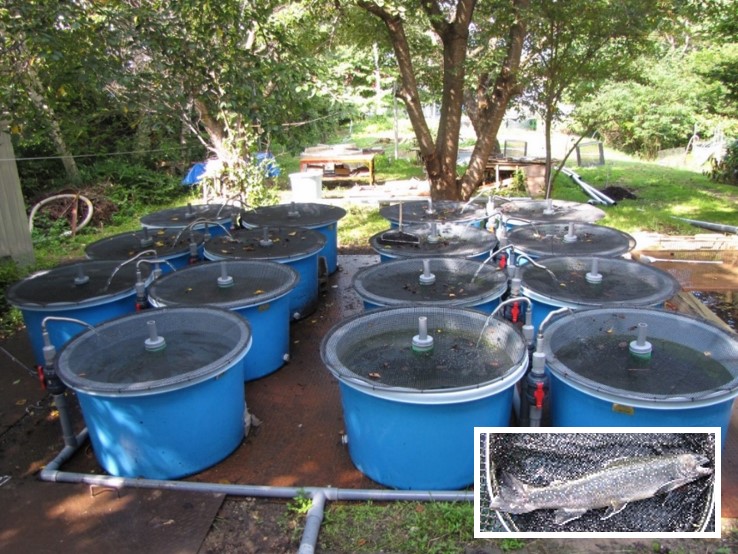 Outdoor aquarium cultivation of un-maturated fish
 About 18 month-old fish are moved to 0.5 t cylindrical aquariums supplied with well water. They grow to about 30 cm in body size for additional 18 months. Natural light condition induces natural body color on their body.
---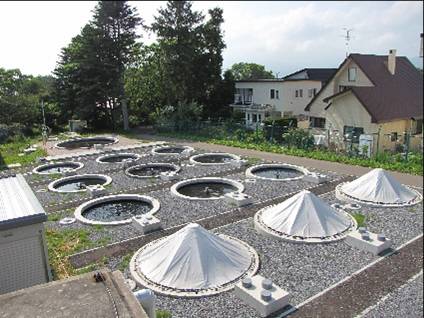 Outdoor pond cultivation for adult fish
 Over 30 cm fish are moved to 3 m cylindrical ponds in diameter, supplied with river water. Natural light and temperature condition induces differentiation of eggs with good quality. Especially in ito (Hucho perryi), low temperature is required for induction of good quality of eggs, and rising of water temperature induces synchronized ovulation in spring season.
---
Kimura-style cylindrical aquarium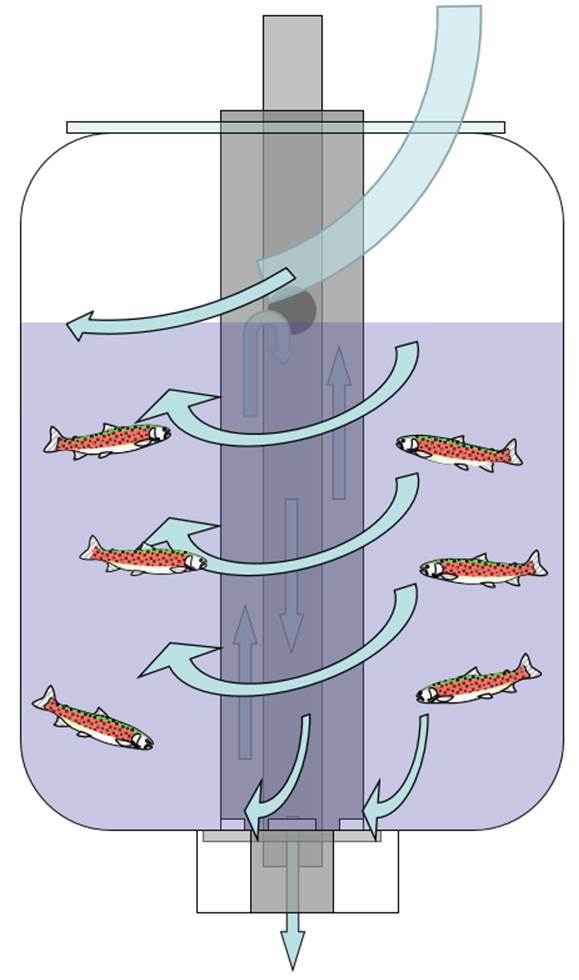 The cylindrical aquarium (multi-high-density aquarium) was designed by former technical officer, Mr. Sizuo Kimura, and accepted as a utility model in 1995. The prototype was made with 18 litter plastic bottle. The bottom of the bottle is opened roundly. The original bottle mouse is sealed with rubber stopper with hole into which inner polyvinyl chloride pipe was inserted as drain. Drain holes are located at the upper part of the inner pipe. Larger outer polyvinyl chloride pipe with thin slot at the bottom was settled outside of the inner pipe. The processed bottle is settled upside-down. Water is poured into the new hole and induced spiral water-flow in the bottle. Debris, such as fish droppings and uneaten bait, were flow out through the bottom slit in outer pipe, moved up to the drain holes on inner pipe and then run out from the bottle, keeping the water clean inside of the bottle. Over 500 or 4 kg of individuals can be reared in the 18 ℓ bottle, depending on the size. You can purchase the Kimura-style aquarium from the private company, Aqua Co. Ltd
---
---